Building a better sandwich franchise
If you could design the ideal sub & sandwich franchise opportunity for 2023, you would want a brand with enormous brand recognition, a menu millions of people love, a leadership team that puts the success of franchise owners first, and the ability to always be on the cutting edge of what consumers want and crave.
In all of these ways and more, Quiznos fits the bill.
In 2023, Quiznos is completely reinvigorated. By returning to our roots as the most innovative sub franchise in history, Quiznos is in the midst of a national resurgence that shows no signs of slowing down anytime soon.
"When Quiznos first started, it was a complete disruptor," says Tim Casey, CEO of Quiznos. "It was doing things that no other brand was doing, and now we're doing that again. We're focused on making Quiznos an outstanding investment opportunity for entrepreneurs who are seeking profitability and growth. We've made improvements to every aspect of our business model. Including our restaurant design, our investment level, and now, by bringing in new equipment into our kitchens, making our menu a disruptor once again. Now is an incredibly exciting time to be a part of Quiznos."
The secret to winning millions of fans? Have an exceptional product
Quiznos is one of the most beloved brands, not only in the sub franchise category, but in any category period. Our fans have followed us through thick and thin. The reason is simple: our product is that much better than everyone else's.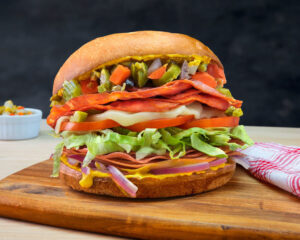 Mashed summed up why Quiznos is such a beloved brand in an article entitled, "The Untold Story of Quiznos," which goes into detail about why we've always been a cut above the rest.
"In a world full of soggy, un-toasted sub sandwiches with a myriad of toppings and a dearth of flavor, Quiznos stands alone as defender of deliciously warm, toasted sub," Mashed reports.
"If you've ever been there versus somewhere like Subway, for example, you've probably tasted this commitment to high levels of quality yourself."
Quiznos is one step ahead of consumer behavior
Having a phenomenal product is the secret to winning millions of loyal and enthusiastic fans, but Quiznos takes it one step further. We've made significant investments in our business model to not only update our menu with the blend of classic Quiznos subs and new items that feature adventurous flavor profiles, but also to meet consumers where they are and how they want to order from us.
"We're getting back to our roots as a disruptor," says Tim Casey, CEO of Quiznos. "Our LTOs are incredibly unique like bison and other proteins that differentiate us from the rest of our category. At the same time, we've embraced the changes in consumer behavior by updating our business model to include drive-thru ordering, mobile ordering, and delivery, as well as focusing on speed and efficiency to ensure that our customers get a great product fast. Our goal is to be hyper-relevant to consumers so that we can deliver best-in-class unit level economics to our franchise owners."
Quiznos is focused on franchisee profitability and growth
The leadership team of Quiznos understands the connection between the brand's long legacy of innovation and consumer loyalty.  Our investments modernize the restaurant design, drive menu innovation, and empower the consumer to order how and when they want. The new Quiznos franchise restaurant offers more profit-potential and scalability than ever before.
"I've been a part of Quiznos for more than 25 years. Now is the best time this brand has ever been," says Greg Boudreaux, VP of Operations with Quiznos. "We've focused on operational excellence and providing the support, continued menu innovation, and ability to turn consumer engagement into sales. The result is a Quiznos that is far stronger as an investment opportunity than it has ever been."
Invest in a sandwich franchise today
Now is the best time to invest in a strong brand like Quiznos. If you're ready to learn more about the Quiznos franchise opportunity, fill out our form here, and one of our team members will be in touch. We can't wait to learn more about your franchise goals!