Iconic sub franchise entering a bright new era
Quiznos franchise, the most disruptive and innovative sub franchise in history, is stronger than ever before.
Under the new leadership of Rego Restaurant Group, a franchisor with deep experience in reinvigorating brands with tremendous consumer affinity, Quiznos is returning to its roots by dialing the innovation up to 11.
And the result is a franchise opportunity that is truly something to get excited about.
"This is the most exciting time in the history of Quiznos," says Mark Lohmann, President of Quiznos. "We're confident that when we look back on Quiznos in 2022, a few years from now, we're all going to be looking back on the rebirth of a great brand. The traction that we're getting from consumers, the level of interest we're experiencing with entrepreneurs, and the growth potential of this brand are phenomenal. Now is the time to invest in a Quiznos franchise, because there's so much opportunity right now. The sky's the limit."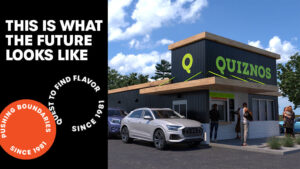 Quiznos new restaurant design is built for today and tomorrow
When Quiznos pioneered the toasted sub, it changed the way the Americans eat sandwiches forever. In 2022, Quiznos is continuing to shake things up.
"The more innovative we are as a brand, the more that consumers will reward us," Lohmann says. "Everything we're doing as a brand is focused on consumer preference, and ensuring that this brand continues to remain relevant with consumers today and in the future. We're focused on innovation every day because that is what made Quiznos great."
Beginning with a brand new restaurant design that is unlike anything else in the $20 billion sub franchise category, Quiznos is one step ahead of the rest of the industry. Our new model brings in flat-top grills and deep fryers, so that Quiznos can offer menu items that the rest of the sub franchise category cannot, while providing customers with unique menu items that invoke a sense of adventure, fun, and most importantly, craveability.
Along with meeting the ever-expanding palette that today's consumers have, the new Quiznos restaurant design also allows customers the flexibility they expect. We've added drive-thru service, omnichannel delivery, and we're focused on operational excellence so that our customers get their food fast.
All of this is an effort to drive profitability to our franchise owners.
"We're committed to helping our franchisees thrive in business," Lohmann. "We believe we make sandwiches better than anyone else out there, and with our new design, we can make them faster than anyone else, too. We've also embraced third-party delivery. The way that we've designed our restaurant of the future is to ensure that our franchisees have long-term growth potential."
Download the Franchise Report
In 2022, Quiznos is completely reinvigorated. By returning to our roots as the most innovative sub franchise in history, Quiznos is in the midst of a national resurgence that shows no signs of slowing down anytime soon.
Enormous brand recognition is a tremendous advantage for franchise owners
Quiznos is one of the most beloved sub franchises in the nation, with millions of fans across the country and around the world.
This is a tremendous advantage for franchise owners.
"Quiznos has enormous brand awareness that franchise owners can capitalize from day one," says Tim Casey, CEO of Quiznos. "While other brands have to spend a fortune to generate excitement about their brand, Quiznos franchise owners have a built-in audience of wildly enthusiastic fans. Our loyalty platform is one of the largest in the industry, and we're able to speak to our individual customers to drive engagement, create excitement, and ultimately drive sales."
Now is the time to franchise with Quiznos
With so much momentum behind our brand, Quiznos is ready to franchise with entrepreneurs who share our passion for people, community, and the best tasting subs on planet earth.
In 2022, there is an enormous opportunity to bring Quiznos to markets across North America. With the demand for new Quiznos restaurants higher than ever before, now is the ideal time to invest.
"There's never been a better time to invest in Quiznos," Casey says. "What do you want as a franchisee? You want to have an opportunity to grow a brand in your community. You want to have the opportunity to work with the corporate team to influence the business model. And you also want a business model that offers the potential for economic growth. By franchising with Quiznos today, you get to be on the cutting edge of where Quiznos is headed."