Quiznos best-in-class training and ongoing support
When you franchise with Quiznos, you're joining a brand that understands what it takes to become a top-performing franchise owner and how to scale up to multi-unit ownership quickly and effectively. Our franchise owners are the center of the Quiznos universe. We know that our brand can only be successful if our franchise owners are successful. This is why Quiznos has invested so much in franchise training and ongoing support.
When you franchise with Quiznos, you're joining a brand that will be with you every step of the way. We leave nothing to chance.
"Our training & support program is a step above anything else in the industry," says Greg Boudreaux, VP of Operations with Quiznos. "We've brought in industry leaders to cover every aspect of the business model – and it's not a one-sized-fits-all approach. We tailor our business model directly to the needs of our franchise owner. For example, if a franchise owner is going to be an owner-operator, we will tailor our training differently than if a franchise owner is an experienced multi-unit investor who is going to open multiple Quiznos locations. We provide training to store managers as well, so every Quiznos can be a top-performing restaurant with the best in-store experience."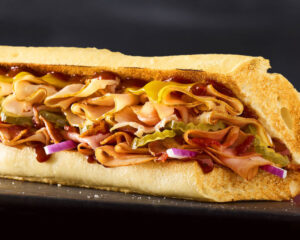 What does our franchise training & support look like?
Quiznos franchise training & support begins on day-one. Here's what it looks like:
Initial training
You will come to our headquarters in Denver, Colorado, for several days of in-person, hands-on training. We invite you to send your managers so they can receive training at an open Quiznos location. Every aspect of the business model is covered, from how to prepare our menu, how to greet customers, how to manage inventory, how to use our POS system, how to lead a team, and much, much more.
Site selection & build-out
Quiznos has a dedicated team of real-estate professionals ready to help you select the ideal location for Quiznos restaurant. We will help you through the process of lease negotiation, and be on hand to support you throughout the build-out process.
Marketing support
Quiznos franchise owners have access to some of the most forward thinking marketing strategies in any industry. Our marketing team will support you in helping you make a connection with your community, rolling out ongoing campaigns for our new innovative products, and keeping Quiznos top of mind for our millions of fans.
Loyalty program
Part of our comprehensive marketing support is access to our loyalty program, which boasts a large user-base that's growing all the time. Our loyalty program allows us to directly touch every one of our most loyal customers personally, driving excitement and sales to our franchise owners.
Field support
Quiznos franchise owners are never on their own. We have a team of dedicated field support professionals who will visit your restaurants regularly to provide training and coaching.
Invest in Quiznos today
"Quiznos is the most forward thinking sub franchise, and our training & support is a reflection of that," Brent Phillip, Vice President of Digital Marketing with Quiznos. "For us, everything is written in pencil. We're always looking at ways to improve our model, improve our unit-level economics, and improve the support we deliver to our franchise owners. This leadership team is committed to franchisee success above all else, which makes now a very exciting time to be a part of this iconic brand."
If you're ready to take the next step and invest in a Quiznos franchise, fill out our form here. One of our dedicated team members will be in touch to start a conversation. We can't wait to learn if a Quiznos franchise is a good fit for you!